Effective Ways of Managing Wrinkles
As autumn approaches, the cold and dry weather continues to get intense. In such a climate, it is easy to feel your skin pull or develop fine wrinkles, hair loss, cold, dry skin, etc.
According to a data from Banobagi Plastic Surgery Clinic on the 3rd of November, dry skin can be a great factor in getting wrinkles. Making facial expressions such as talking, laughing, getting surprised, and grimacing is a natural phenomenon in our daily life, however, if your have a dry skin, these expressions can soon lead to fine lines. Once a wrinkle is created, it is not easy to get rid of it, and repeated skin irritation can lead to thicken.
When you develop wrinkles, the most noticeable area is the forehead but the wrinkles on the forehead are visible only after they have thickened. Therefore, anytime people look in the mirror, they tend to pay more attention to the wrinkles around the eyes which influences them to apply eye cream from as early as 20 years. On the other hand, wrinkles on the forehead can make young people look older than their peers, which can also be another stressor.
In taking care of wrinkles, the best thing is proactive management. It is to delay the formation of wrinkles by undergoing proper care and management in advance. The first priority is to block UV rays that damage the skin and cause wrinkles. UV rays exist regardless of the season and anyone can be affected even when indoors, so, it is recommended to frequently apply sunscreen to exposed areas such as the face and hands.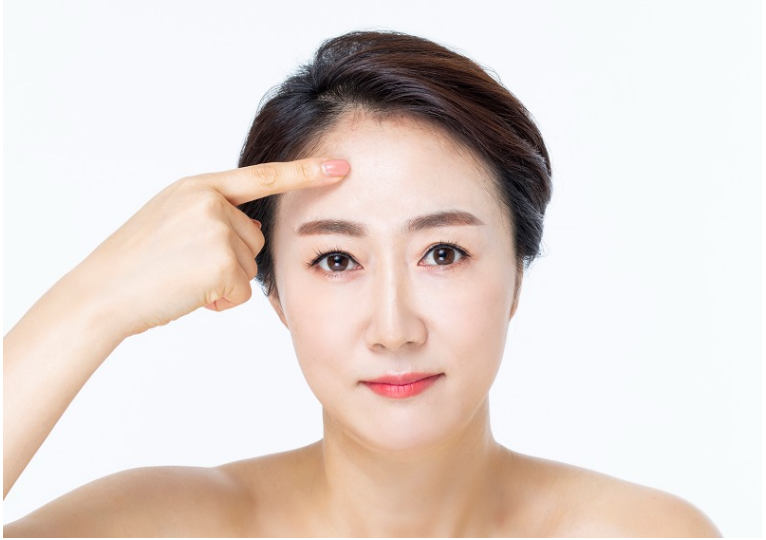 In addition, when there is lack of moisture in the skin, collagen production is greatly affected and the elasticity of the skin cells can decrease, so, you need to pay attention to moisturizing your skin daily. Also, make sure to drink more than 2L of water a day, avoid beverages containing caffeine which stimulates diuresis, and avoid salty foods that slow down collagen production. If you repeatedly stimulate your skin, wrinkles are prone to form, so facial expressions such as raising your eyes or eyebrows and repeated frowning should also be avoided.
If you have deep forehead wrinkles and horizontal wrinkles on the bridge of the nose, it can be improved by using an endoscope. Endoscopic forehead lift is the method of fixing the hairline using Endotine, a special medical fixing device that prevents skin sagging after making an incision inside the hairline. It is a method of improving the overall appearance of the upper face, from the forehead to the eyelids. With this, sagging eyes, and wrinkles around the eyes, are naturally restored.
Banobagi Plastic Surgery Representative Director, Doctor Ban Jae-sang stated, "In autumn, the dryness of the skin is more noticeable than usual, so even the wrinkles that existed but were not noticeable can become more enhanced." He added, "Accurate diagnosis should be prioritized because coping methods may vary depending on an individual's skin condition and age".
Source: The Korea Health News